| | |
| --- | --- |
| | Workflow And Reengineering International Association |
WORKFLOW COMPARATIVE STUDY

READ MORE ABOUT...
Products Summary Description, and BEST AT Position


COSA Workflow V4.1 (COSA Solutions) COSA Workflow jo

ins a powerful organization model featuring multiple group hierarchies to a Petri net formalism to describe the procedure. The Petri net formalism implemented enables powerful and flexible process definition with parallelism and synchronization of multiple flows. A distributed engine handles case migration. COSA offers an HTML worklist handler and Lotus Notes integration. Activities can be scripted or programmed through a comprehensive API. COSA Workflow was selected by Baan in 1999 as the standard workflow product integrated into its ERP product.




Complex organization with Units, Groups, Projects, and many roles

Complex or very complex procedures with many parallel paths

Powerful time control mechanisms using calendars

Reasonable throughput requirements

---

F

lowMind 4.1.7, (Akazi)

FlowMind is written in Java with Java APIs and orientation. FlowMind supports all phases of process management: process modeling, IT integration, deployment, use, administration and continuous optimisation. FlowPoint™, the business process modeling interface, combines multiple windows, tree-based presentation, graph layout, forms entry and drag and drop with a minimal number of process concepts for easy modeling. FlowComposer, the technical modeling interface focuses on enriching models produced with FlowPoint™ with comprehensive process modeling constructs. FlowMind generates activities interfaces as HTML forms, and provides a web based worklist handler. Java orientation is key to its deeper integration into applications.

Easy analysis and design of web based processes.

Integration of BPM features into an application context

Developments are based upon Java

Internet based operation and deployment

---

FileNET P8 BPM Suite,

FileNET P8 BPM Suite is the J2EE evolution of the first workflow ever developed: Workflo from FileNET. It leverages the scalability of the P8 platforms' distributed architecture, its EAI capabilities through CrossWorlds, and a Java/COM API for tailored developments and integration. P8 BPM has a "production capable" process model, with an "ad-hoc capable" process definition tool running from a Web-browser. It supports concurrently: Web-browser-based install-define-and-run simple processes with document integration; as well as versioned production processes with Java/XML (and COM/SOAP) tailored interfaces, tuned applications integration, and event driven interactions. P8 BPM Suite natively cooperates with its companion products Content Manager, and Web Content Manager.

High throughput and scalability for production workflow applications

Ad-hoc define-and-run workflow applications for end users

Integration of P8 content management

All Web-based from process definition to administration

EAI through CrossWorlds

---

i

-Flow 6.0 (Fujitsu)

i-Flow from Fujitsu offers a clean and simple to use user interface and a process definition than can be completed and changed at run time. Conditions and expression can be expressed as business rules through the ILOGs' JRule engine. I-Flow is written in Java and uses adapters classes (that can be sub-classed) for accessing facilities like file system and directories. It exposes a comprehensive Java API. Adapters for applications integration include Taviz EAI support, listeners for SOAP and Files transfer. Interfaces (including process definition one) are web browser based with a thin HTML version and a thick one built from Java Applets accessible to the Java interface developer. Those combined capabilities makes i-Flow an engine of choice for those that want to embed an engine into a Java application.

Applications where dynamic changes are important,

Workflow feature to be added as a component of an existing applications,

Workflow capability to be added to a Java environment;

The processes are defined by (power) end-users.

---

Webflow (SAP) with a true object-oriented design, Webflow offers a high level of re-usability. MQ Series Workflow concentrates on procedure management and powerful organization modeling while leaving activity implementation to the programmer. It is tightly integrated with Lotus Notes. Workflow engine can directly co-operate with applications and other workflow engines through XML encoded MQSeries messages.

Robust, complex production workflow with applications integration.

Procedure independence relative to organization changes

Large number of different procedures and activities with re-usability

Activities are complex and must be programmed to fit requirements

---

Staffware Process Suite

Staffware Process Suite (SPS) offers a good balance between production and administrative workflow requirements while delivering very high production and path through throughput. Interactive activities implementation uses form definition and a scripting language. Automatic activities can use EAI adapters for scripts, SQL database access, and Tuxedo transactions. SPS provides an EAI adapters to BEA and Actional Control Broker. SPS supports distributed configurations and delivers activities in Lotus Notes and Microsoft Exchange environments. An OO development toolkit offers a comprehensive RAD environment. A Process Monitoring tool covers both operation and management needs.

A true production workflow with excellent administrative capabilities

Comprehensive set of features covering most requirements

Low development cost in prototyping mode, and for usual administrative procedures.

Interface to EAI tools with high throughput for production and path through applications

---

T

IBCO InConcert

InConcert integrates object-oriented technology, document management, and a process model enabling users to quickly build and tailor workflow. Users can modify process instances on-the-fly as exceptions and changes might require. It offers easy definition of procedures that can be deployed through client/server, Java and HTML-based clients. With a clean OO API offered in C,C++, OLE, and Java, InConcert works with TIBCO IntegrationManager orchestration engine and TIBCO RendezVous messaging for efficient and reliable applications integration. TIBCO BPM Designer support both InConcert process and IntegrationManager orchestration definitions.

A product of choice for dynamic changes in a production application

A well architectured engine with clean Object Oriented API

Extensive event mechanisms to handle exceptions.

Robust Rules engine

Business templates and integration software for telecom operators, high-tech manufacturing, and B2B e-commerce.

---

WebSphere MQ Workflow 3.4 WebSphere MQ Workflow is entirely built on top of WebSphere MQ application and messaging infrastructure, including communications between servers and clients. With a true object-oriented design, WebSphere MQ Workflow offers a high level of re-usability. It excels on process management and organization modeling. Activities can be defined or implemented with the assistance of ActiveX objects and Java APIs and using Web Client technology for rapid application development, as well as automated generation of JSP files based on process definitions. With IBM WebSphere Business Integration Modeller and Monitor (former Holosofx BPM tool) MQ Workflow has a strong business process analysis, simulation and development tool in one box, as well as a comprehensive monitoring environment. It interface with users through WebSphere features as forms and portlets.


Robust, complex production workflow with applications integration.

Procedure independence relative to organization changes

Large number of different procedures and activities with re-usability

Rich process analysis and monitoring functionality.

---

W4 3.0 (W4) Designed for use on the Internet from the beginning, W4 provides an excellent level of functionality with production workflow throughput. HTML forms (as well as JSP, ASP, and ASP.NET) are automatically generated and can be re-drawn graphically using an HTML editor. W4 offers simple mechanisms enabling flexible procedures with easy handling of unforeseen situations. W4 has a comprehensive API provided in Java, C, C++, COM, C#, VB.NET and XML messages. Integration is supported through Message queue (Oracle and WebSphere MQ) and application adapters including an SAP adapter and an EntireX adapter. Its Internet based distribution architecture enables support of virtual enterprise world-wide.

An Internet native product, with low TCO

Supports complex procedures with re-usability of procedures and activities

Wide scope of applications from production to administrative

With good flexibility for collaborative like applications
---
READ MORE ABOUT...
New Book


BPMN Modeling and Reference Guide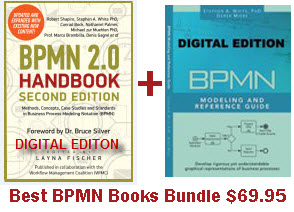 Two Best Sellers - One Special Price!
Retail $114.95 Huge 39% Discount.
Pay only $69.95 for both BPMN books in one bundle.
You Save $45.00.

BPMN Edición digital en español
Precio: $49.95 Comprar

---
A Member of:



Copyright © 1993 - 2014 Workflow And Reengineering International Association All rights reserved.
Last modified: July 15, 2014
---