| | |
| --- | --- |
| | Workflow And Reengineering International Association |
WORKFLOW COMPARATIVE STUDY

READ MORE ABOUT...
The Methodology
The methodology is based upon 12 comparison criteria representing all possible users requirements, and an in-depth analysis of the technical documentation of each product.
Each criterion is classified into product features. Each product score for each criterion is the result of combining features scores through weight expressing their relative importance.
Each feature comprises elementary characteristics precisely described (Volume II).
The score of a product for a feature is the sum of its scores for all the feature's characteristics.
Each score is justified by a description of how it is supported (Volume III).
The result is summarized in the form of a bar chart presenting the scores for the 12 criteria, the aggregated scores obtained by the product for some 200 characteristics precisely justified
Criteria definition and decomposition is based upon the author 's experience: ten years of workflow research, competitive analysis for Bull and Wang Software, and three years of consulting for workflow users in all industries.
The evaluation itself is based upon the whole technical documentation of each product, over 10,000 pages!. This is the most reliable methodology since this documentation must accurately describe each characteristic, otherwise the vendor would have to face high support costs and unsatisfied user.
Each organization has in hands the means to precisely select important characteristics for their applications, and tune weights accordingly, leading to a fully tailored evaluation of each product in their specific situation.
For example, the multilingual support feature weight might be of no importance in the USA, while it might be essential in a country like Switzerland.
Thanks to its systematic and in-depth process, the Workflow Comparative provides you:
a precisely defined set of criteria, features and characteristics that can be reused;
an in depth analysis of each products based upon its technical documentation;
means to adjust weights to your requirements, and to instantly re-evaluate all the charts.
---
READ MORE ABOUT...
New Book


BPMN Modeling and Reference Guide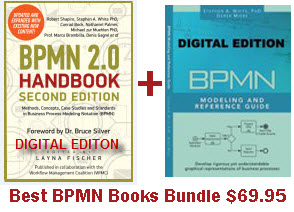 Two Best Sellers - One Special Price!
Retail $114.95 Huge 39% Discount.
Pay only $69.95 for both BPMN books in one bundle.
You Save $45.00.

BPMN Edición digital en español
Precio: $49.95 Comprar

---
A Member of:



Copyright © 1993 - 2014 Workflow And Reengineering International Association All rights reserved.
Last modified: July 15, 2014
---