| | |
| --- | --- |
| | Workflow And Reengineering International Association |
Book Review

NEW TOOLS FOR NEW TIMES:
THE WORKFLOW PARADIGM,
SECOND EDITION
The Impact of Information Technology on
Business Process Reengineering
Retail: $34.95. Quality softcover, 352 pages. Illustrations, charts, references, appendices, bibliographies, recommended reading, index. ISBN 0-9640233-2-6
Publish date: 1995
Published by Future Strategies Inc., Book Division
2436 N. Federal Highway #374
Lighthouse Point FL 33064
Tel: 954-782-3376, Fax: 954-782-6365.
Available from your bookstore or direct from the publisher.

One benefit of an anthology is the breadth of experience and talent that the contributing authors bring to the subject, like musicians to a symphony. The reader is presented with a more balanced presentation than available from a single author beating a solo drum of opinion. Here, you are able to weigh the different ideas and approaches from leading academics, consultants, users and vendors in the workflow and BPR community.
This second edition of New Tools for New Times: The Workflow Paradigm enables readers to figure out how to think about workflow and business process reengineering. It has also been "reengineered" in keeping with the philosophy expounded by the contributing authors of this excellent anthology. The first edition was a best-seller in its field.
Several important new chapters have been added: Process-Driven Workflow, Workflow and Electronic Commerce, Workflow Management Standards and Interoperability, and a Three-Step Process to Workflow Automation. Other chapters have been updated and revised. The Vendor Directory has been verified, expanded and updated.
Contributors include industry luminaries Dr. Peter Denning, Prof. Nick Imparato, Amy Wohl, Ronni Marshak, Nina Burns, Dr. Stanley Soles, Bruce Silver, Dr. Helene Roos, Keith Swenson, Torrey Byles, Susanna Opper, Dr. Raul Medina-Mora, James Bair and more... The authors represent as many different backgrounds and disciplines as there are BPR interpretations and workflow methodologies.
The book characterizes the evolution of a powerful new process paradigm. It is for managers, consultants, researchers, vendors, and academics, providing extensive coverage of the organizational, managerial, methodological and technological concepts and techniques necessary for successful business process change. Several detailed case studies complete the book. It is also excellent for use in the classroom as a text book on BPR or process change.
According to editor Layna Fischer, "The first edition was a tremendous success - the best-seller in its field - but successes need to be examined. I believe that both books and companies need to be reinvented on a continual basis in order to remain successful.
"The first edition of this book was a valuable resource and, to date, the only one of its kind available, not only for thousands of practitioners and users in our industry, but also for hundreds of university and graduate students around the world," said Fischer.
Tremendous confusion still exists about business process reengineering (BPR) however, and how to use it most effectively. Despite the growing numbers of related titles on the bookshelves, there are still insufficient data to meet informational needs.
Reengineering has to do with reviewing how a business works in order to achieve dramatic performance improvement and be more responsive to the customer. Grasping that much puts you into the right ballpark - only to discover vast confusion about the game in progress.
Is BPR the same as business process improvement, workflow redesign and management? How close are they, in turn, to incremental process improvement, business transformation or core process redesign? How does workflow automation fit into all this? What tools are at my command? So, the question remains: What do workflow automation and BPR mean to me, the user?
To find answers, Fischer turned to people whose experience, knowledge and insights she trusted. This anthology is the result.
Because this book is also intended to be a continuing reference guide, the editor has included a Vendor Directory wherein most companies provide short profiles of their product offerings. Because she realizes that new products are constantly being developed in this area, Fischer welcomes submissions from companies not listed here to be included in the next edition of the book.
New Book


BPMN Modeling and Reference Guide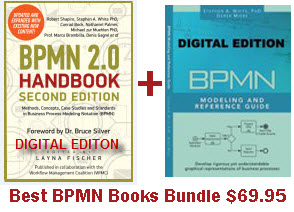 Two Best Sellers - One Special Price!
Retail $114.95 Huge 39% Discount.
Pay only $69.95 for both BPMN books in one bundle.
You Save $45.00.

BPMN Edición digital en español
Precio: $49.95 Comprar

---
A Member of:



Copyright © 1993 - 2014 Workflow And Reengineering International Association All rights reserved.
Last modified: July 15, 2014
---