| | |
| --- | --- |
| | Workflow And Reengineering International Association |
New Tools for New Times:
The Workflow Paradigm,
Second Edition
The Impact of Information Technology on
Business Process Reengineering
---
"Great way to grasp quickly what workflow automation really means—from the top," Mike Sullivan, President, TekTools Inc., California.

"The information contained in the appendices makes it a really useful reference book," Hugh Makgill, Makgill Project Management Ltd., New Zealand.

"This book provides a much-needed roadmap to the current state of the workflow world, going all the way from high-level descriptions on the need for workflow down to specific case studies and provides a way for the reader to grasp some of the impact of this new computing paradigm," Michael Squires, Senior Staff Architect, Sequent Computer Systems, Oregon.

"The Workflow Paradigm revolutionizes our whole understanding of the concept of work." Michael Wolff, Michael Wolff Associates, Scotland.

"This book is more concise and practical than the other 123 books and articles on BPR that I've read over the past several years," Ron Cannon, Management Consultant, New Jersey.

"We are very young in bpr at present and it is my job to push the concepts forward. To date I have found your book invaluable and have already put together a migration discussion document to take us forward." Graham Smith, Head of Systems and Methods, Materials Department, Brunei Shell Petroleum, Sudan.

"This book brings my students up to speed really quickly on BPR. It provides an excellent introduction to this new paradigm," Eldridge Huntington, Adjunct Professor, School of Management, California State University.
---
Introduction
Layna Fischer, President & CEO, Future Strategies Inc.
Chair, Workflow and Reengineering International Association (WARIA)

Process-Driven Workflow
S

towe Boyd, President, Work Media

Workflow Management Standards and Interoperability


Workflow Management Coalition, Keith D. Swenson, Architect, Fujitsu OSSI

Reengineering the Business Process


Michael F. Parry, Vice President, Strategic Alliances, Integris Inc.

Case Study: George Mason University


Peter J. Denning, Associate Dean for Computing, Chair, Computer Science Department, George Mason University, and Raúl Medina-Mora, Senior Vice President and Chief Scientist, Action Technologies Inc.

Growing the Smart Organization


Professor Nicholas Imparato, McClaren School of Business, University of San Francisco

Human and Organizational Issues


Dr. Helene Roos and Lois Bruss, Co-founders and Principals, HDA Consulting

Case Study: American President Lines


Jordan Libit, Vice-President, Marketing, Filenet Corp.

Work Reengineering and Workflows: Comparative Methods


Dr. Stanley Soles, Fairleigh Dickenson University

Case Study: Logicon Software Engineering


Louis C. Rose, System Architect, Logicon, Inc.

Managing Technological Change


Susanna Opper, President, Susanna Opper Associates

Implementation Requirements


James H. Bair, Research Director, Gartner Group

Automating the Business Environment


Dr. Bruce Silver, Principal, Bruce Silver Associates

Case Study: Dow Corning


Dr. R. Kraft Bell, President, RKB Limited and Executive Consultant, Prism Performance Systems

Case Study: Grampian Regional Council


Dean Cruse, Vice-President, Marketing, Recognition International

Perspectives on Workflow


Ronni T. Marshak, Editor-in-Chief, Patricia Seybold Group

The Work Management Market


Michael Howard, Vice-President, Marketing, Xerox Corporation

Groupware and Workflow: The European Perspective


Rose Lockwood, Director, ITALICS, United Kingdom

A Three-Step Process to Workflow Automation


By Nina Burns, President and CEO, Creative Networks, Inc.

Workflow and Electronic Commerce


Torrey Byles, Director, Electronic Commerce, BIS Strategic Decisions

Identifying Emerging Technologies


Amy D. Wohl, President, Wohl Associates

Appendix A
A

bout the Contributors

Appendix B


Business Process Reengineering and Workflow Organizations

Appendix C


Vendor directory

INDEX
---
$34.95. Quality softcover, 352 pages. Illustrations, charts, references, appendices, bibliographies, recommended reading, index.
ISBN 0-9640233-2-6 © 1995
---
New Book


BPMN Modeling and Reference Guide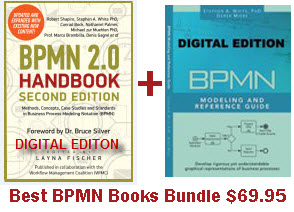 Two Best Sellers - One Special Price!
Retail $114.95 Huge 39% Discount.
Pay only $69.95 for both BPMN books in one bundle.
You Save $45.00.

BPMN Edición digital en español
Precio: $49.95 Comprar

---
A Member of:



Copyright © 1993 - 2014 Workflow And Reengineering International Association All rights reserved.
Last modified: July 15, 2014
---