| | |
| --- | --- |
| | Workflow And Reengineering International Association |
CD ROM Companion to the Workflow Handbook 2002
Published in association with the Workflow Management Coalition (WfMC):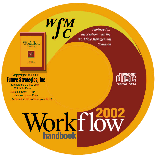 CD ROM Companion to the Workflow Handbook 2002 contains:
Foreword video presentation by Jon Pyke, WfMC Chair

Introduction to Workflow 45-minute video tutorial

An electronic copy of the entire Workflow Handbook 2002 in PDF format

Selected slide presentations to WfMC technical committee

Workflow product comparative analysis (a substantial subset of the highly acclaimed Workflow Comparative Study by Martin Ader)

Product demonstrations, specifications and literature from selected vendors

Contributions from industry experts, includes XPDL 1.0 Specification, examples
and WfMC workflow glossary.
The definitive and one-stop reference work on workflow, standards and business processes; published in collaboration with the Workflow Management Coalition, the industry's standards-setting body.
Retail price US$95.00

ORDER FORM
COMBINATION Packages in the Workflow Handbook Series
Buy any two books and/or CDROMs for US $160.00 Retail (SAVE $30.00)
discount taken upon receipt of order
---
The Workflow Handbook 2002
Published in association with the Workflow Management Coalition (WfMC)

Includes selected award-winning case studies from the annual Global Excellence in Workflow Awards.

Edited by Layna Fischer



Published March 2002

Quality hardcover.
428 pages.
US $95.00 Retail.
Size: 7" x 10"
ISBN 0-9703509-2-9

Quality laminated hardcover. Illustrations, charts, references, appendices, bibliography, index.
Published by:
Future Strategies Inc.,
Lighthouse Point, FL, USA.

"The Workflow Management Coalition is now the globally recognized body for the advancement of workflow management technology and its use in industry,"
Jon Pyke, WfMC Chair
This Workflow Handbook comprises four sections in over 400 information-packed pages:
SECTION 1: The World of Workflow covers a wide spectrum of viewpoints and discussions by experts in their respective fields. Papers range from an Introduction to Workflow through to a peek into the future of XML workflow architectures and integrating Business Process Technology.

SECTION 2 offers selected award-winning Case Studies from the annual Excellence in Workflow awards.

SECTION 3, Workflow Standards, deals with the importance of standards, and details the new Wf-XML 1.1 binding recently published by the Coalition's Technical Committee.

SECTION 4: The WfMC Glossary, an explanation of the structure of the Workflow Management Coalition and references comprise the last section, Directory and Appendices, including a membership directory.

Table of Contents
Foreword
Jon Pyke, WfMC Chair and CTO, Staffware Plc

Introduction (Download document containing short descriptions of each chapter.
Eight pages in PDF format) by Layna Fischer, General Manager, WfMC
SECTION 1—The World of Workflow
An Introduction to Workflow Download a free chapter! (20 pages PDF)
Charles Plesums, Computer Sciences Corporation, Financial Services Group

Workflow Application Architectures: Classification and Characteristics of Workflow-based Information Systems


Prof. Dr. Jörg Becker

and Michael zur Muehlen

University of Münster, Germany;
Dr. Marc Gille

CARNOT AG

, Germany

The Impact of Business Performance Monitoring on WfMC Standards
Carolyn

McGregor, Faculty of Information Technology, University of Technology, Sydney, Australia

Workflow as a Web Application—the Grand Unification


Heinz Lienhard

, ivyTeam

, Switzerland

Peer-To-Peer Technologies and Collaborative Work Management: The Implications of "Napster" for Document Management
B

. John Masters

, Jr., Information Management Consultants, Inc.

An XML based Architecture for Collaborative Process Management


David Hollingsworth

, ICL/Fujitsu, UK

Process Management: A Fundamental Component of Successful Web Service Execution


Michael Rossi

, Computer Sciences Corporation, Supply Chain Solutions, USA

Business Process Technology: From EAI and Workflow to BPM


Mike Marin, FileNET Corporation, USA
SECTION 3— Case Studies: Global Excellence in Workflow Awards
SECTION 4—Directory and Appendices
Global Excellence in Workflow Awards
Contributors and Authors
Coalition Member Directory
New Book


BPMN Modeling and Reference Guide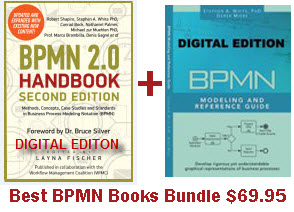 Two Best Sellers - One Special Price!
Retail $114.95 Huge 39% Discount.
Pay only $69.95 for both BPMN books in one bundle.
You Save $45.00.

BPMN Edición digital en español
Precio: $49.95 Comprar

---
A Member of:



Copyright © 1993 - 2014 Workflow And Reengineering International Association All rights reserved.
Last modified: July 15, 2014
---