| | |
| --- | --- |
| | Workflow And Reengineering International Association |
CDROM Companion to the Workflow Handbook 2003 NEW!
Published in association with the Workflow Management Coalition (WfMC):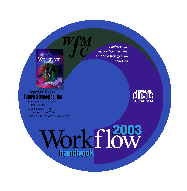 Click for larger picture
CD ROM Companion to the Workflow Handbook 2003 contains:
Foreword video presentation by Jon Pyke, WfMC Chair

Introduction to Workflow 45-minute video tutorial

An electronic copy of the entire Workflow Handbook 2003 in PDF format

Selected slide presentations to WfMC technical committees

Workflow product comparative analysis (a substantial subset of the highly acclaimed Workflow Comparative Study by Martin Ader)

Product demonstrations, specifications and literature from selected vendors

Contributions from industry experts, includes Wf-XML 2.0, XPDL 1.0 Specification, examples and WfMC workflow glossary.
The definitive and one-stop reference work on workflow, standards and business processes; published in collaboration with the Workflow Management Coalition, the industry's standards-setting body.
Retail price US$95.00

ORDER FORM
COMBINATION Packages in the Workflow Handbook Series
Buy any two books and/or CDROMs for US $160.00 Retail (SAVE $30.00)
discount taken upon receipt of order
---
The Workflow Handbook 2003
Published in association with the Workflow Management Coalition (WfMC)
Edited by Layna Fischer

Quality hardcover. 384 pages.
US $95.00 Retail.
Size: 7" x 10"
ISBN 0-9703509-4-5

Quality laminated hardcover. Illustrations, charts, references, appendices, bibliography, index.
Published by:
Future Strategies Inc.,
Lighthouse Point, FL, USA.

"The Workflow Management Coalition is the globally recognized body for the advancement of workflow management technology and its use in industry," Jon Pyke, WfMC Chair
Welcome to the Workflow Handbook 2003. This landmark 10th anniversary edition offers you three sections:
SECTION 1: The World of Workflow covers a wide spectrum of viewpoints and discussions by experts in their respective fields. Papers range from an uncomplicated definition of the technology, architecture styles, the importance of Web Services, adaptive workflow in a distributed environment, group applications, Business Activity Management to discussions on emerging technologies.
SECTION 2: Workflow Standards deals with the importance of standards, and includes discussions and examples on the importance and deployment of standards, specifically the new XPDL specification recently published by the Coalition's Technical Committee. The specification is published in full on the Coalition website.
SECTION 3: Directory and Appendices provide an explanation of the structure of the Workflow Management Coalition, and include an authors' appendix, WfMC officers and a membership directory.
Table of Contents
Foreword
Jon Pyke, Chair WfMC and CTO Staffware Plc, United Kingdom

Introduction
Layna Fischer, General Manager Workflow Management Coalition, United States
SECTION 1—The World of Workflow
Workflow and Process Management (Download a free 25-page chapter)
Carol Prior, Maestro BPE Pty Limited, Australia

Group Applications: From Workflow to Work Management
Martin Ader, Workflow & Groupware Strategies, France

Best Practices in Workflow
Connie Moore, Giga Information Group, United States

Web Services and Workflow– a Unified Approach
Heinz Lienhard, ivyTeam, Switzerland

The Continuity Between Design and Implementation
Nathalie Génieux and Dominique Montel, W4, Fance

Optimization of Workflow Performance through Business Process and Architecture Alignment: A Simulation Approach
Jon Weyland, CACI, United States

Business Processes and Business Rules: Business Agility Becomes Real
Jean Faget, W4, France; Mike Marin, FileNET, United States; Patrick Mégard, ILOG, France; Vincent J. Owens, Cap Gemini Ernst & Young, United Kingdom; Laurent-Olivier Tarin, ILOG, France

Formal Support for Adaptive Workflow Systems in a Distributed Environment
Yun-Heh Chen-Burger and Jussi Stader, AIAI, the University of Edinburgh, United Kingdom

Web-extended Business Process Management
David Lakness,, eiStream Technologies, Inc., United States

Information Drives Change—Integrated Business Process Management and the Enterprise Dial Tone
Scott G. Opitz, webMethods, Inc., United States

Straight Through Processing: Part 1—A fiasco without Workflow?
Jeroen Stoffele and Fred van Leeuwen DCE Consultants, The Netherlands

Straight Through Processing and Workflow in Securities Trading: Part 2—What Can Workflow Add?
Fred van Leeuwen, and Jeroen Stoffele DCE Consultants, The Netherlands

The Intelligent Enterprise Infrastructure
Mike D. Gilger, Identitech, United States

Emerging Technologies—Where the Market is Headed
Jon Pyke, Staffware Plc, United Kingdom
SECTION 2—Workflow Standards
B2B Interoperability through Presentation Level Integration
Alan Rickayzen, SAP AG. Germany and Keith Swenson, Fujitsu Software Inc., United States

Managing the Compliance of Dynamic and Complex Processes
Paul W.H. Chung and Larry Y.C. Cheung, Loughborough University United Kingdom

XPDL and BPMN
Stephen A. White, SeeBeyond, United States

XPDL in Action
Arnaud Bezancon, ADVANTYS, France

Integrating Warehouse Process Flows in the Heterogeneous Environment
Jean-Pierre Dijcks, Oracle Corporation, United States

Getting Started with Workflow
Charles Plesums, CSC Financial Services, United States

The WfMC Glossary
Compiled by David C. Hollingsworth, Fujitsu, United Kingdom Chair, WfMC Technical Committee
SECTION 3—Directories and Appendices
WfMC Structure and Membership Information
Layna Fischer, General Manager, WfMC, United States

WfMC Officer and Fellows 2003

Appendix—Authors

Appendix—Membership Directory

Index

Order Form

---
New Book


BPMN Modeling and Reference Guide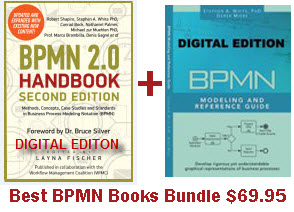 Two Best Sellers - One Special Price!
Retail $114.95 Huge 39% Discount.
Pay only $69.95 for both BPMN books in one bundle.
You Save $45.00.

BPMN Edición digital en español
Precio: $49.95 Comprar

---
A Member of:



Copyright © 1993 - 2014 Workflow And Reengineering International Association All rights reserved.
Last modified: July 15, 2014
---