| | |
| --- | --- |
| | Workflow And Reengineering International Association |
CD ROM Companion to the Workflow Handbook 2001 containing:
Foreword video presentation by Jon Pyke, WfMC Chair

Introduction to Workflow 45-minute video tutorial

An electronic copy of the entire Workflow Handbook 2001 in PDF format

Selected slide presentations to WfMC technical committee

Workflow product comparative analysis

Product demonstrations, specifications and literature from selected vendors

Contributions from industry experts, includes Wf-XML Binding Specification and WfMC workflow glossary.
The definitive and one-stop reference work on workflow, standards and business processes; published in collaboration with the Workflow Management Coalition, the industry's standards-setting body.
Retail price US$95.00
598 MB.
ISBN 0-9703509-1-0
Buy the CD ROM and Workflow Handbook 2001Combination package pay only $160 for both - save $30.00
ORDER FORM
COMBINATION Packages in the Workflow Handbook Series
Buy any two books and/or CDROMs for US $160.00 Retail (SAVE $30.00)
discount taken upon receipt of order
---
The Workflow Handbook 2001
Published in association with the Workflow Management Coalition (WfMC)

Edited by Layna Fischer

Published OCTOBER 2000

Quality hardcover.
420 pages.
US $95.00 Retail.
Size: 7" x 10"
ISBN 0-9703509-0-2

Quality laminated hardcover. Illustrations, charts, references, appendices, bibliography, index.

"The Workflow Management Coalition is now the globally recognized body for the advancement of workflow management technology and its use in industry,"
Jon Pyke, WfMC Chair
---
This latest edition of the Workflow Handbook will provide you with a valuable insight into the revolution in business process management and the attendant benefits currently underway as eBusiness opportunities increase. The Workflow Handbook has been designed as a one-stop source for organizations seeking or already committed to implementing workflow systems as part of their IT and EC strategy.
The Workflow Management Coalition has worked strenuously for the adoption of standards throughout the industry. Standards allow organizations that have more than one workflow system to connect them easily. They provide a fertile environment for workflow component development to grow and flourish, giving a rich array of options for user organizations. Most importantly, standards provide an infrastructure for inter-organizational process automation.
Table of Contents
Introduction (Download document containing short descriptions of each chapter. Five pages in PDF format)

Workflow: An introduction

Workflow for the Information Worker

The Many Generations of Workflow

Workflow-based Process Controlling—Or: What You Can Measure You Can Control

The Role of Workflow in Portal Environments

A Supply Chain Management Framework using the TINA-C Business Model and a jFlow Workflow Prototype

Managing Time in Workflow Systems

The Birth of m–Commerce

Interworkflow: A Challenge for Business-to-Business Electronic Commerce

Applying Intelligent Workflow Management in the Chemicals Industries

Workflow in the Public Sector

Building Complex Workflow Applications: How to Overcome the Limitations of the Waterfall Model

From Workflow to e-Process Automation

Three Fundamental Trends: Application Integration, Development Tools, and Workflow Engine Cooperation

The Value of Standards

Workflow Interoperability Standards for the Internet

Workflow Standard–Interoperability Wf-XML Binding

WfMC Terminology and Glossary

WfMC Structure and Membership Details including WfMC Officers

Coalition Member Directory
---
---
New Book


BPMN Modeling and Reference Guide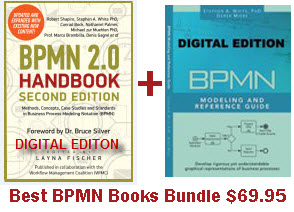 Two Best Sellers - One Special Price!
Retail $114.95 Huge 39% Discount.
Pay only $69.95 for both BPMN books in one bundle.
You Save $45.00.

BPMN Edición digital en español
Precio: $49.95 Comprar

---
A Member of:



Copyright © 1993 - 2014 Workflow And Reengineering International Association All rights reserved.
Last modified: July 15, 2014
---